Think of this as Part Two of my last post, Further Proof That the Apocalypse is Upon Us.
That's me, to the right, said "Old Man' of the title to this piece. No question, I'm old. According to at least one of my readers, (I presume) a millennial, I'm also clueless, at least to the extent I'm resistant to newer manifestations of 'photography.' In response to my last post, he submitted a reader's comment dismissing me as "an old man yelling at clouds," the proverbial addled old guy standing in his bathrobe yelling at the kids playing ball in the street, the smug implication being that the world has long ago passed me and my kind by, and I should wake up, take note of the fact and move the hell out of the way while a new generation advances our notions of creative possibilities.
Specifically, my previous post concerned my off-hand dismissal of the "photographs" of a guy who authored a piece wherein he extolled the virtues of current digital photography tech and used examples of his work to bolster his claim that current digital technologies make it difficult to not take a great photo. I metaphorically face-palmed at his claim and the "photos" illustrating it. While I didn't come out and say it, you could infer that I found the illustrating photos to be bad, bad in a way that only someone profoundly unaware of their aesthetic incompetence could produce. And then, after taking a deeper dive into his website, it turns out he's a relatively well-known "photographer," having shot stuff for all sorts of 'hip' publications. Holy shit, I thought to myself, has it come to this, that these hyper-processed, computer-generated in-your-face graphic simulacra are now what the millennial generation consider to be 'photography?' Is this what we now hold out as excellence, what current 'photographers' are aspiring to? No thanks. If you know the history of the medium and the necessary role photography plays in the visual arts and the larger culture, if you knew the etymology of the definition 'photography,' if you'd read Barthes or Sontag, if you've ever developed a negative and wet printed it, you wouldn't tell me that what this guy is doing is 'photography,' because it's not.
So I wrote about it; there was something unsettling about the fact that the mass understanding of 'photography' could have arrived here, at this point; that we'd gotten here, at a place so far removed from a traditional understanding of the medium…and nobody really notices, probably because they've come of age in the digital era – an era wherein graphic novels, video games, photo apps and augmented realities are "the real"; because they're so profoundly ignorant about photography and its history as a visual art, and have no real understanding of the radical shift in consciousness this all entails.
*************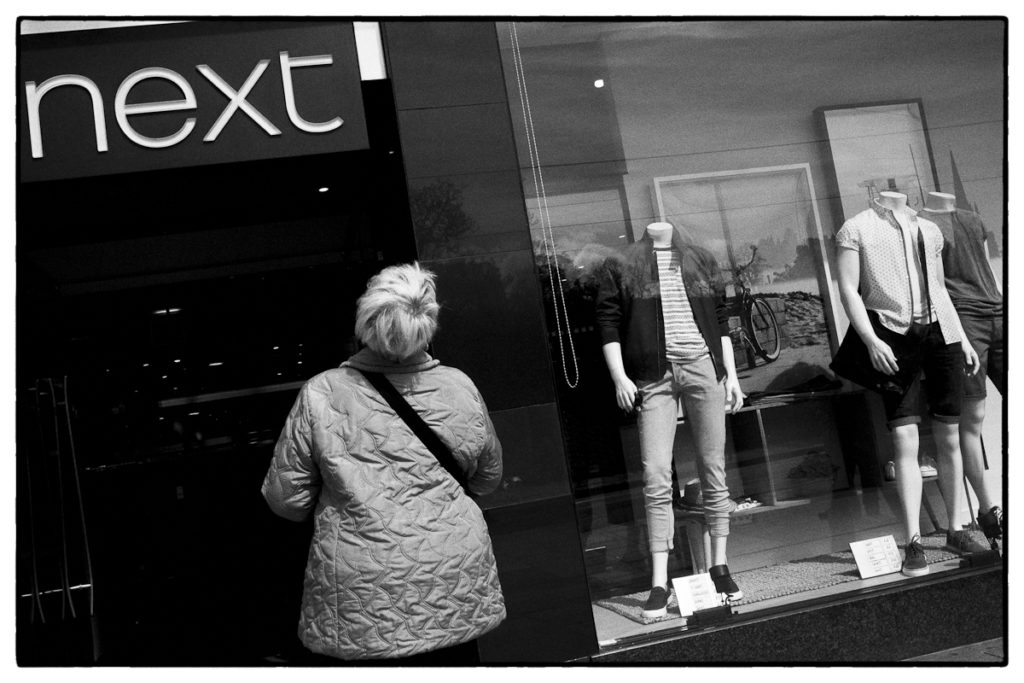 "C'mon in. Buy What We're Selling. What Have You Got to Lose?"
Already in the 1930's, Martin Heidegger warned of mechanized technologies transforming modern man's internal life. For Heidegger the mechanical typewriter was a harbinger of a larger problem: by veiling the essence of writing and script, the typewriter "withdraws from man the essential rank of the hand, without him experiencing the withdrawal appropriately and recognizing that it has transformed the relation of his Being to his essence," [italics mine] which is a convoluted Heideggerian way of saying that new technologies rob us of our creative powers without our even realizing it.
Obviously, we're now infinitely advanced from the humble technological advances of the typewriter. Were he alive today Heidegger would go further, saying not only that we aren't aware of our impoverishment by our technologies, but we've been duped into thinking that the very technologies that rob us of our creative autonomy are in fact enhancing it. We're so mesmerized by the marketing hype produced around these technologies as a means to their replication that we've intellectually and emotionally refashioned our loss of autonomy as creative enhancement. It's a textbook example of what the Existentialists called "Bad Faith," "Stockholm Syndrome" with respect to technology.
*************
Above is a 'creation' of mine. I did it completely myself, if by 'completely' one means pushing a button or two and initiating an algorithm created and controlled by someone else to create the end result. Likewise with the self-portrait that leads off above. Twenty years ago I could have offered these 'creations' to you as evidence of my artistic skills, and you'd probably be impressed, although you certainly wouldn't accept them as 'photographs.' But they are 'photographs' in the currently accepted sense of the term – they were generated by a camera and have some link, however tenuous, to the capture of light. (That's me, standing in front of my bathroom mirror, the car a 71 Camaro I cycled past parked on a back road.) Now? Created with the push of a button, the rest done for me by a computer algorithm and AI, whatever link they once possessed to the real now completely severed. Anyone can do it. Welcome to 'photography.'
*************
Why the old-man angst about inevitable technological advances? What's at stake? it's certainly not as simple as what I suspect digital millennials think is going on, that of resentment and inflexibility of those of us supposedly psychologically and emotionally wedded to outdated technologies and the concepts on which those traditional methods rest. It's way more existential than that, something that's been in the air since the inception of digital, something that forward thinkers have been warning was coming and is now upon us full-bore. It involves a fight for the real and photography as a means to document the real, recognition of the pernicious consequence of severing indexicality from photography, transforming the medium into a means of subjective expression with no link, however tenuous, to brute factuality. It's about the 'transformation" Heidegger sees occurring to us – to "Being' -in this process, a transformation that's two-fold: first, an increasing retreat of photographic consciousness from the objectively real into subjective virtual worlds, and second, the creation of those virtual worlds not by our own imaginations but imposed on us via the push of a button, the result of it all being a false consciousness confusing imaginative subjection for creative flourishing.
So, next time you smug technological sophisticates begin to feel all superior to us film era Luddites, take a step back and consider that some of us may have articulable philosophical and creative reasons for rejecting the more outre aspects of digital technologies, and those reasons may be grounded in legitimate concerns based on deep historical sympathies. In other words, we may know things, important things, you've never even thought about, and you may be wise to listen.