"The Self is the Way the Individual Structures Experience." Erik Erickson
I'm amused by 'photo critique' forums, where people post photos and solicit comments from others. The assumption, I suppose, is that others will offer constructive criticism that I can use to improve my photos. If that's the point, count me out. If I'm using photography as a medium for creative expression, why should I give a shit what someone else thinks of my work? It's my work, the expression of my self; what could someone else instruct me about that? The futility of asking for aesthetic advice from other people seems to me self-evident: Allow other's advice to color your self-expression and it's no longer self-expression.  
This is an inherent problem in 'Art Education.' Most students don't make the kinds of work they claim to admire. Rather, what they make is work that emulates successful work previously made by others, work that's become recognized by the Academy as worthy. The irony, of course, is that the work students are taught to consider worthy and seek to emulate was itself most likely ignored or misunderstood or critically panned when made.
Strong, adventurous, challenging work is always unusual, mainly because so few people have enough confidence in the legitimacy of their own creative impulses to resist the practical influences that dumb-down real individual expression. And it's usually only recognized with a good amount of hindsight, while the average and uninventive is too often mistaken at first glance as significant. Think of van Gogh, laboring away in painful anonymity, or Jackson Pollock, who "traded" paintings for food with his big-hearted Long Island grocer neighbor, after which the grocer would throw out the paintings as junk (can you imagine being that grocer's heir?). Last time I was in Amsterdam I walked past the line for entrance to the van Gogh museum. It extended out the door and wound at least a half-mile down the street, tourists lined up in the thousands just to look at the paintings he couldn't give away a century ago, while the bloated, mediocre history-piece paintings hung in fashionable salons during van Gogh's lifetime are vanished into irrelevance, seen now as the derivative, uninspired crap they are.
Judging excellence via popularity is always a mistake – popularity usually being the product of the lowest common denominator (e.g. Kenny G. a better jazz saxophonist than Dexter Gordon? Rod McKuen a better poet than Fernando Pessoa? Thomas Kinkade a better painter than Edward Hopper?). It's the dynamic that brings us the banalities of pop culture – Hollywood and syndicated television recycling the same trite formulas ad infinitum, Bill O'Riley History books and Dr. Phil pop psychology – the mistake of equating good with what comforts the sensibilities of the most common.
I have a rule that guides me in assessing whether I should pay attention to, or better yet, spend my money on, works of popular culture: the more a given work – a book, say, or a record album, or a movie – is breathlessly lauded via popular media, the less likely its worth my serious attention. I can think of very few 'next great things' that ultimately possessed any staying power. That's not to say that I haven't derived fleeting enjoyment from a Karl Ove Knausgaard book or a Vanilla Ice song [editor's note: yes, Vanilla Ice. My Czech girl played me his "Ice, Ice Baby" song in the car the other day. Granted, it's not mid-60's Dylan goes electric brilliant, but that's a great song when you get past the fact that it's Vanilla Ice]; it's just that I've learned the difference between transient emulation and true works of genius (genius meant in the sense the Ancients understood it, as a quality of work that transcends trends and fashions, reputation and fame, works that abolish time and place of origin).
The word genius is Latin in derivation. In Roman antiquity, it described the guardian spirit of a person or place, a spirit that linked the person or place to a particular fate. Like the Greek daimon, your genius was your unique singularity, the spirit that followed you from birth to death. It was your fate, your singular destiny. As such, it couldn't be taught, and it couldn't be identified to you by others. It could only be recognized by you, recognized and assented to. You would know it when you heard it. Surrender to it and it would take you where you were meant to go. Listening to others could only obscure its voice.
*************
Untitled, 2005, 30×40 acrylic on canvas
Above is a painting I did in 2005. I like it, but I'm not especially proud of it; it's just something I did back then. Other people seem to like it. It hung in my office for years, and visitors would often comment on it. When I told them I'd painted it, they'd often get a look – part disbelief, incomprehension, admiration, dismissal – although almost everyone professed to like it. Mixed up in all of it were notions of class, education, taste, expectation. Complicating matters is that I don't really think of myself as a painter; rather, I was a guy who painted for awhile until I tired of it and moved on. I had to do something with the paintings, so the better ones I hung as decoration.
People often mistake the painting for a Pollock. I wish. Granted it does look like something he might have done. And that, frankly, is the reason I don't consider myself a painter, and that canvas nothing special. The larger issue is this: Does this painting reflect me? Or is it simply a well-crafted emulation of the creativity of others? That's the difference between honest Art and wall decoration.
Untitled, 2005, 30×40 acrylic on canvas
Above is another of my paintings, done about the same time as the first one above. Nobody I know likes it. My wife hates it and refuses to have it hung in our house. God forbid that we hang it in our backyard cottage that we Airbnb. But …. I love it. It speaks to me. When I painted it I wasn't attempting to do anything but create something unique to me. When I was done I said "Yup," that's good, just like that." It wasn't meant to be anything but my own. If people were to ask me what it means, I'd reply "damned if I know…but I like it."  If people don't like it, well, that's their problem.
*************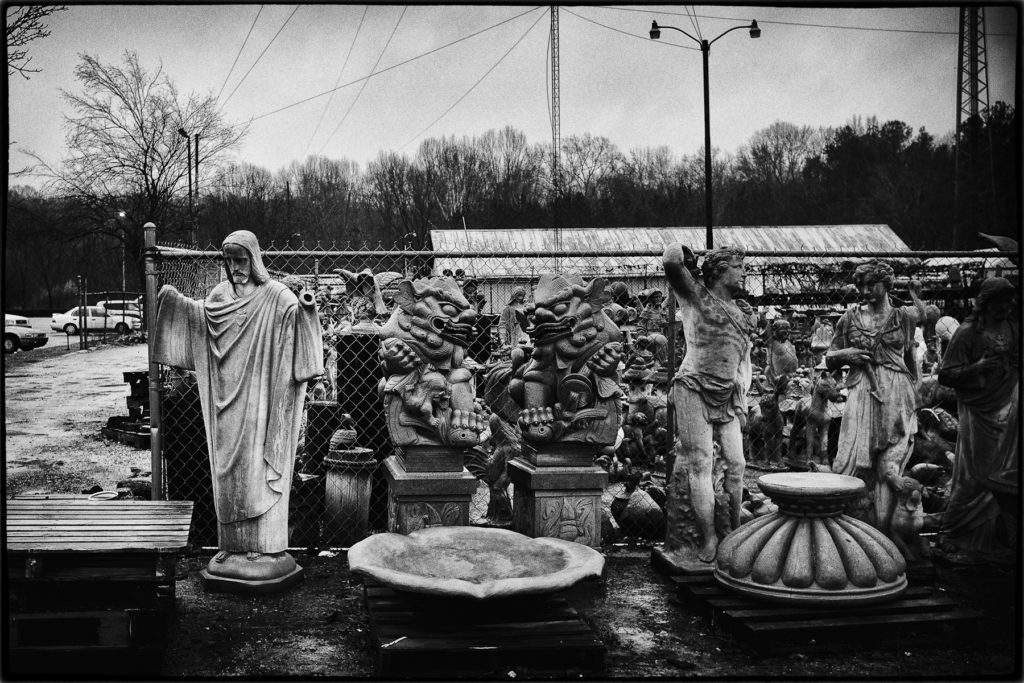 There's always the accomplished – those who claim a further competence – who are only too happy to critique your work, usually for a price, no less – the portfolio reviews by recognized or self-proclaimed "experts," the photo workshops, the weekend seminars. I've never had a portfolio review or attended a seminar, but I have studied photography in institutional/academic settings, and I have never – not once – received criticism or advice that assisted me in any other than a marginal way; in fact, most of it, if it did anything, temporarily diverted me from the path I was on and should have been on. "Experts", whether they be at your local camera club or they're the Curator of Photography at the Met may, at most, be able to help you with the how, but they'll never have a clue about the what, those things that resonate with you and that you're capable of giving back distilled through your own unique consciousness.
If I could recommend one way to become a better photographer, it'd be to develop your own way of seeing and the rest will take care of itself. The simplest way of doing that is to think about what you want to say and not necessarily how to say it. In other words, have something to say and you'll already have found the proper way to say it, the how being embedded in the what. This will have the added benefit of making your work your own and not derived or copied from someone else's. Nobody but you can tell you how to do that. Speak out of your own experience; speak what you believe. In the words of Henry David Thoreau, "Dig up some of the earth you stand on, and show that."