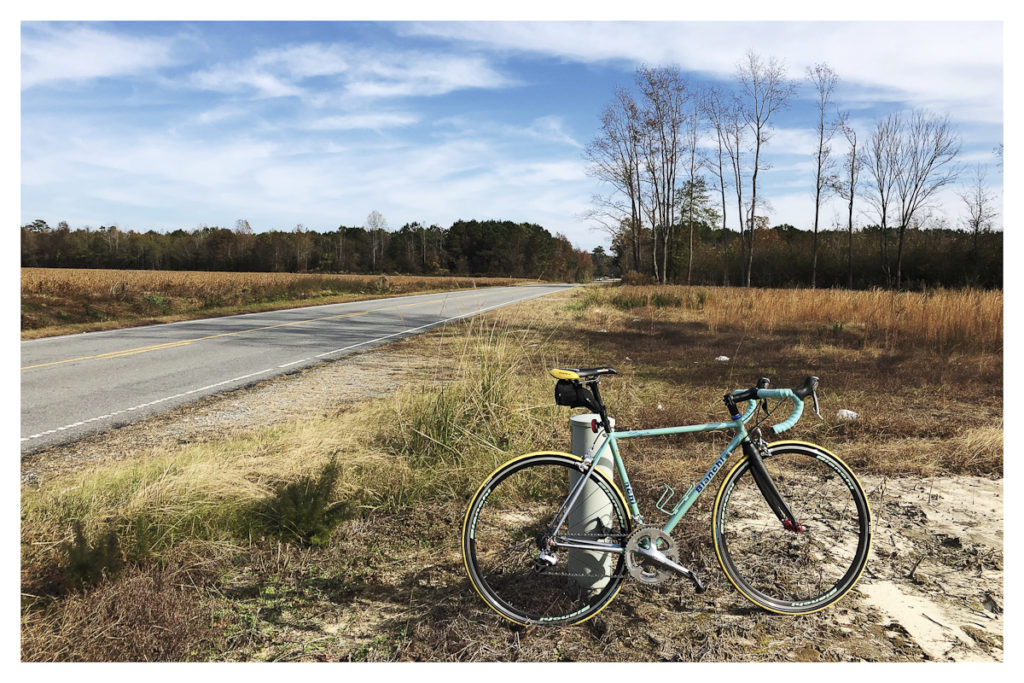 Eastern North Carolina is a great place to ride a bike. Flat, rural, sparsely traveled roads that traverse tobacco and cotton fields, generally friendly people who, while in their cars and trucks give you plenty of room and are happy to strike up a conversation with you when stopped at a crossroads store. Of course, this is "red state" country, poor, sparsely populated, under educated, economically depressed, where "Trump" and "Thank You Jesus" signs vie for space in small town front yards. What they're thanking Jesus for I'm not quite sure. Most of the towns are dead, downtowns of empty decaying storefronts, civic and economic institutions hollowed out by years of economic stress, remaining residents too poor or too stupid to leave. Close your eyes and you could be in Mississippi.
Sure is beautiful out here in the sticks
What's interesting to me is how close it is to affluence and education. The Raleigh/Durham/Chapel Hill metro area where I live is incredibly vibrant, peopled with  graduates of the 3 major research universities there – Duke, UNC Chapel Hill and NC State – and full of educated transplants who work in the tech industry. But go 10 miles east of my home close to downtown Raleigh and you might as well be in another country.
A couple days a week I'll ride out east – I try to ride between 150 and 200 miles a week, and usually do it in two rides of 75 -100 miles each, rides that take the day back and forth. Often I just go and see where the road takes me, other times I'll set a destination and ride there and back. This past week I decided to head to Big Daddy Road in Faro, North Carolina, about 60 miles or so from my front door.
*************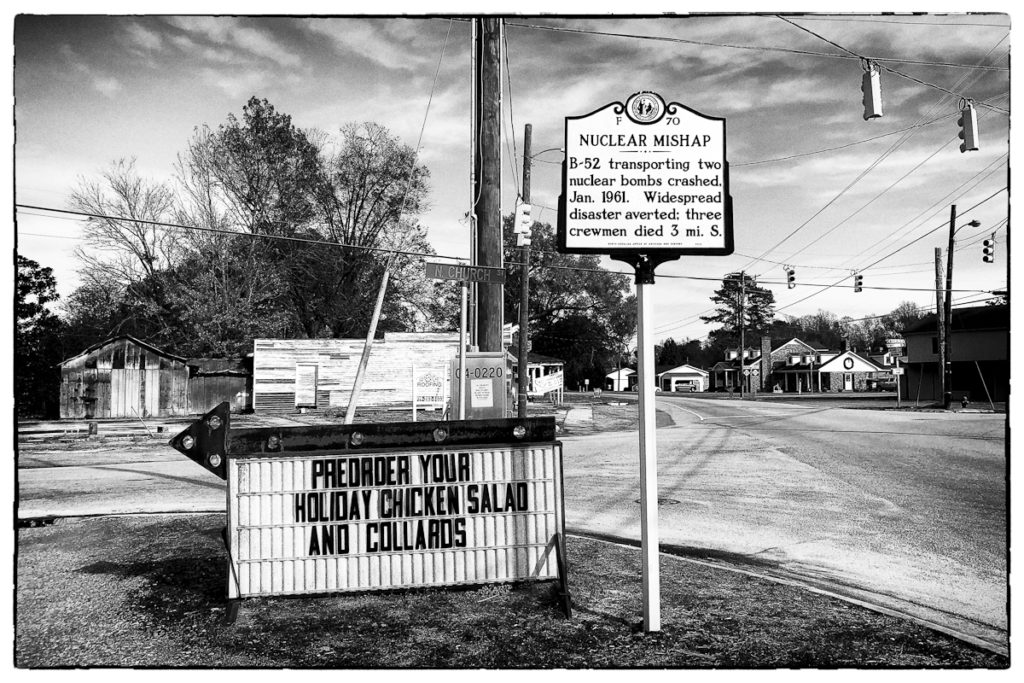 Above is the intersection of Rt 222 and N. Church St in Eureka, a rural hamlet a few miles north of Faro. Faro isn't even a town but simply a crossroads with a church, where Big Daddy Road meets NC Rural Route 1054. I was surprised to see the historical marker commemorating the "Nuclear Mishap" that occurred here in 1961, as almost no one today seems aware of what went on out here back in the day. The marker is dated 2012, which would have been shortly after a Freedom of Information request brought to light government documents about the "mishap." I had to chuckle when the read the marker – so clinical and matter of fact – something happened here long ago and now its history.
Except that it isn't history. What the marker doesn't tell you is that there's a live, armed Hydrogen Bomb, 250 times the power of the bomb dropped on Hiroshima, still there, buried somewhere in a swamp on Big Daddy Road 3 miles to the south. Apparently, a B-52 flying out of Seymour Johnson Air Force Base in nearby Goldsboro broke apart in flight and dropped two armed hydrogen bombs. One was found still strapped to its parachute hanging from a tree at the edge of the farmer's field, the other was never found but is assumed to be buried "deep underground" in a swamp abutting the field. Both bombs were live; the recovered bomb had blown through all but one of its fail-safe switches. The bomb still there, well, hopefully we'll never know.
Big Daddy Road is just a road, indistinguishable from a million other eastern North Carolina rural roads. Some farms, some trailers, a few evangelical churches, lots of American flags. Irrespective of its banality, there's a certain frisson one gets riding down it when you're aware of what's out there. About a mile past the swamp where the missing hydrogen bomb is supposedly located I came upon a rocket in a church yard, no signs or plaque giving any explanation. Not often you see a rocket in a churchyard, but hey, this is America, you can worship whatever you want. For all I know it has nothing to do with what happened here in 1961. Who knows?

On a lighter note, here's a recent John Oliver piece about the "Mishap":