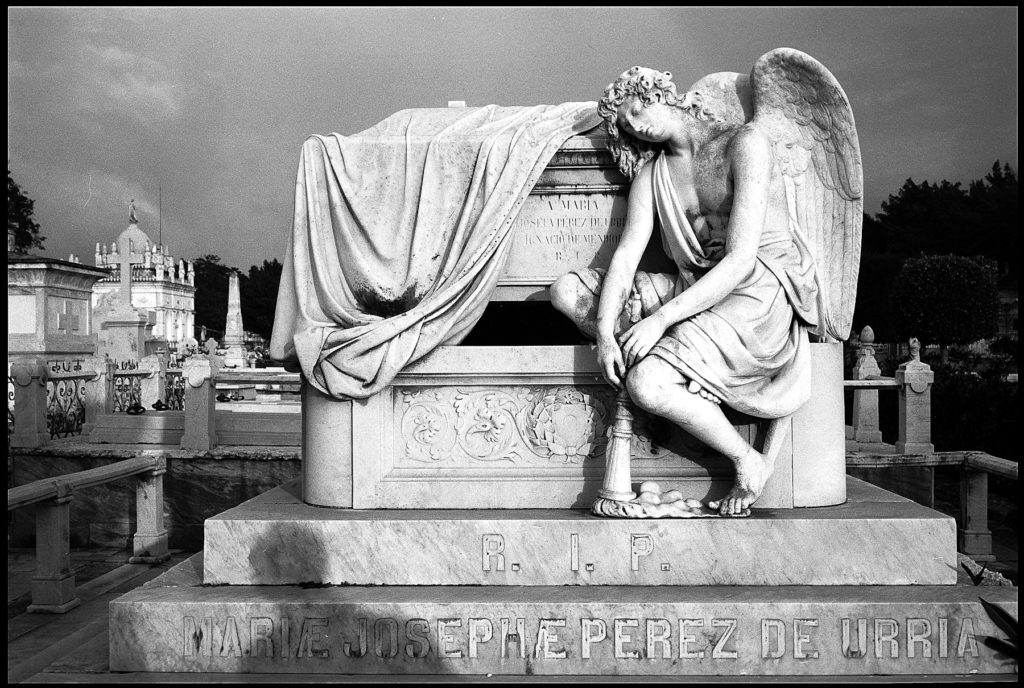 Havana, 1998 – Recently I've Been Feeling A Lot Like This Guy
The source and nature of inspiration has always been an interest to me – where it comes from, how it manifests itself, where it goes and why. Photographic inspiration particularly. I've been fascinated by photography since I was a kid; it's one of two long-standing interests in my life, the other being motorcycles. Yet even the strongest enthusiasms occasionally wane. Given some time, and a respite to clear my head, my interest returns, stronger than ever.
I've noticed that my photography and cycling interests are interrelated. When one waxes the other wanes. My photographic interests have been fairly constant – except for those times I've been accommodating my interest in motorcycles. I'm either obsessing about black and white film photography and photographers and photographic tech – or I'm dreaming about racing motorcycles – power to weight ratios, reciprocating mass, fuel injection mapping, favorite tracks etc. I'm rarely dong both at the same time. Apparently, both speak to the same need, a need that manifests itself in me in differing ways – aesthetics vs. speed. When the need is fulfilled in one manner the other becomes dormant.
Havana, 1998
I am currently experiencing a complete lack of interest in things photographic. Complete. I've not written for some time because I am totally devoid of things to say. This is highly unusual. I'm typically in a frame of mind where I can effortlessly crank out semi-intelligible thoughts marginally relevant to the subjects we discuss here. Often, when I'm a bit more inspired (my wife would say 'manic') I can write 3 or 4 posts in a day. Likewise with 'seeing' photographs. When it's there it's there; it's a gift that comes unbidden on its own terms. I see what look like compelling photographs everywhere, seemingly the most mundane things transformed aesthetically via grey tone, film grain and 2×3 format. It's an incredible blessing, making even the most banal aspects of daily existence pregnant with possibility.
The converse of this is that inspiration can leave as quickly as it comes. It's why the Greeks talked of a 'muse', a spirit we all had access to that inspired us in a time and manner of the muse's choosing. Apparently, my muse has decided I need a break from 'thinking photographically.' One thing I have learned – it's best to respect the coming and going of one's muse, and certainly not try to force her hand.
*************
My latest interest – a KTM RC390 (highly modified, more to follow)
Sometime around the new year I started getting an acquisitive itch. Had to buy something. I'm not too proud to admit that I often suffer from the vulgar desire to buy things, things that I know, deep down inside, will not make me happy. I had some money in my pocket, I'd been a good boy for some time, and now I wanted to indulge myself, damn it. My first inclination was to buy a camera ( as if I needed another camera). I thought of a Monochrom. Why not? I could write about it on Leicaphilia. When I tired of it, as invariably I would, I'd sell it to a reader. And then I fixated on an M262, the digital M without the screen. Very cool, very old-school but without the hassle of scanning film etc. I'm certain I could find some high-handed way of justifying the purchase in spite of my claimed aversion to digital capture – I'd think of something.
And then I ran across a local craigslist ad for a KTM RC390.
I've ridden motorcycles for as long as I've photographed. I bought my first bike, a 900cc Kawasaki Z1, in 1976 when I was 18, but my older brother had numerous motorcycles – a Benelli 50, Honda 160, Honda 450 – that I'd sneak out of the garage when he wasn't looking, so I basically grew up riding bikes. Marriage and the inevitable compromises of life temporarily halted my riding, but after a divorce I rediscovered my love of bikes in the form of a fascination with Ducati racing motorcycles. The mid to late 90's found me with 6 Ducati's in the garage, a few I raced, others I brought to track-days and ran on the backroads, usually illegally. Like all my enthusiasms I went in all the way, starting a company that made titanium parts for Ducati's, the profits of which funded my racing. I also ran with a bunch of hooligans half my age who lived for doing crazy shit. Running from hapless police was an especially fun affair. Wonderful times, lot's of testosterone fueled foolishness, a bunch of broken bones and one airlift to a trauma unit. It was all incredibly crazy fun and daring…life lived at the limits.
Falling off a bike going 140 mph and getting up and walking away can make you think you're immortal. Of course, eventually the bill comes due. In 2011, my riding buddy killed himself on a group ride, losing the front end on a sweeping backroads curve at about 120 mph – nothing that hadn't happened before and that he had walked away from, except this time he didn't. Totally his fault, a result of his own recklessness, but that didn't make it any easier. Pulling off a man's helmet to find him dead is a sobering experience, certainly when it's a 34 year old 'kid' – a genuinely good guy with a full life ahead of him. Shortly thereafter, after coming within an inch or two of killing myself and someone else on another group ride, I sold all my bikes and promised the people who love me I wouldn't ride again. Looking back on it now, I'm amazed I'm alive.
And then, a month ago I bought another bike, the one you see above. I've compromised – it's 373cc, and won't go faster than 110 mph. But damn, you can have a lot of fun getting it there. I've ordered a set of BST Carbon Fiber wheels – reducing reciprocating mass is critical for the performance of smaller bikes – and have signed up for some track time. Hopefully the wife has forgotten my last track day – a nasty 'lowside' and a broken wrist. Of course, I've also been shaking it down on North Carolina backroads, fake plate, riding like a maniac. What can possibly go wrong, right?
As for photography – I'll keep you informed. I intend to start posting again on a regular basis, and the work proceeds with getting a final copy of Car Sick out to the printer and into your hands. In the meantime, you can find me running the backroads on a seriously tricked out RC390.