Having had published this blog for a few years, I've had the privilege of meeting a lot of interesting, knowledgeable folks who know a lot about Leica film cameras. Happy to say that I've been the beneficiary of more than a few person's knowledge and expertise, in the form of advice given, life experiences recounted, expertise freely and gladly shared. I've taken advantage of the blog to sell cameras and lenses to readers, never an unpleasant experience among the many transactions. Suffice it to say that Leicaphilia readers seem to be good, decent people sharing a love of Leica film cameras and happy to do the right thing when dealing with others similarly situated.
One of the benefits of the blog is that I'll frequently receive inquiries from people I don't know, asking me about a camera or lens they've inherited or been given, and it's always fun to help them identify what they have and often tell them they might have a few thousand dollars worth of equipment in hand, especially when they've previously been pitched a ridiculously low-ball offer by a friend, family member or local camera dealer. Invariably, they go away happy, armed with a fair assessment of the worth of what they have and grateful for the help.
A few weeks ago I received the following email inquiry from a guy in Alabama, name and exact location not really relevant at this time:
Sir, I came into possession of a Leica M3 a few years ago after my father in law passed. It appears never used, has multiple lenses, and some paperwork. The camera serial number is 1097779. From what I have been able to research online, there appears to be a wide valuation range, especially with the lenses. Can you provide an estimate or recommend a reputable appraiser for these items? I am happy to provide pictures of the camera and lenses. Any suggestions will be appreciated.
Interesting: a late-run M3, apparently "never used," with a bunch of lenses. Could be worth something. So,  I did what I'd usually do; I went to the appropriate source and ran the serial number given as a preliminary matter, and ….Holy Shit! did I read that right?….M3 #1097779 falls within one of the last 150 camera runs of factory produced Black Paint M3's. If it's genuine, this could be a very valuable camera. And it comes with "multiple lenses and some paperwork." Yup…send me pictures. Send me a bunch of pictures.
*************
Above are a a few of the pictures sent back to me in response, pictures of what is obviously a Black Paint M3 with serial number appropriate for the claim. At first glance, and taking into consideration the relatively poor quality of the pictures, yes, it looks in damn good condition, possibly "never used"; as for the lenses, they all have their own boxes, apparently with matching serial numbers, at least one of them is black paint (the Tele-Elmarit 135 f4) and there's some documentation about the provenance of the camera.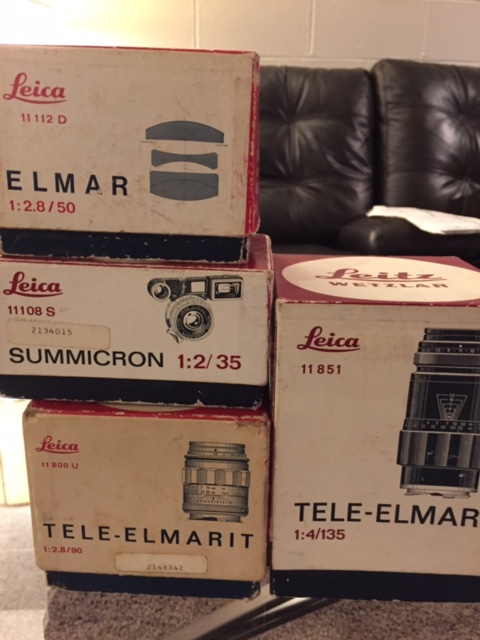 Back to the appropriate sources for reliable information on recent auction sales of legit Black Paint M3's – and my research indicates that there is ample reason to assume the M3 body itself, without any of the lenses, might fetch in the neighborhood of +/- $40,000. I've found evidence of sales of legit Black Paint M3's into the +$60,000 range.
*************
I've spoken with the owner at length, told him what I've repeated here, and am assisting him in proceeding in a manner that protects his ability to sell the camera and lenses for a legitimate price, without being screwed by unscrupulous "friends," dealers or scammers. Luckily his wife, the daughter of the guy who purchased the camera back in the 60's, recently turned down an offer of $3000 for the lot, rightfully deciding to make further inquiry about the value of the lot prior to making any decisions. She has numerous student loans to repay. Hence, the email to me.
I suppose the whole thing could be an elaborate scam – I'm not above being naturally suspicious in such instances; it could be an elaborate ruse cooked up by the likes of Third Man Cameras which I've documented recently. But everything about my interactions with the owner indicates legitimacy. The serial number matches a recognized run of Black Paint M3's. The story behind the camera has the ring of truth. So: I'd like help from the collective wisdom of my readership: anything that looks out of place or doesn't add up? I'd love your input.
People make decisions about what they'll believe in two different ways. Most folks, uncritical thinkers, make an assumption and then go looking for facts that admit the assumption true. It's a thought process that attempts to rationalize a flimsily supported belief by cherry-picking data that support the belief while willfully ignoring contradictory evidence, and it's what scam artists rely on to hook you. You want a black paint M3, you see one with all the documentation being sold on Ebay – 'Certificates of Authenticity', Bills of Sale to a guy named Busby Catanach in Wisconsin, appropriate boxes and pamphlets, some cock-and-bull story about buying it from a guy at a garage sale – it all looks good because you want to believe, so you buy it for $21,000 on Ebay, which is a steal!…and you invariably find out later, if at all, that you've gotten screwed. Of course the seller knows nothing. This is the Third Man Camera business model. A sucker truly is born every few minutes.
Critical thinkers only make provisional assumptions until those assumptions have been tested by a process of skepticism.  In dealing with a question like this, they'll adopt a provisional assumption provisionally supported by the known facts – it's legit, let's say – and then look for reasons that might falsify the assumption. Find reasons that don't fit. If you look and look and look, and everything still fits, it's a good bet your provisional assumption is correct. This is how good science operates – via the principle of "falsification." If you can't falsify a proposition no matter how hard you try, the proposition is probably true,
I've been unable to find anything in all this that leads me to believe this M3 is anything but a legit, pristine Black Paint M3, part of a batch of 150 produced by Leitz in 4/64. Anybody see anything I'm missing?