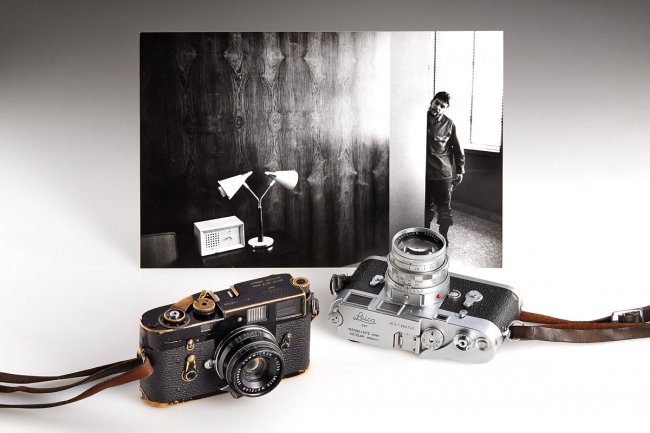 I recently made the acquaintance of a neighbor, an elderly housebound woman who had been a professor in the art department of a local university. We meet over a lost dog, got to talking, she invited me inside her home. Apparently, she taught photography – traditional film photography – and is herself a photographer of some note. I was struck by the sheer physicality of her photography – walls full of framed prints, rooms full of boxed and cataloged prints, loose prints of various sizes and configurations on tables and desks. This, I thought, is "photography," and she is a "photographer." And then it dawned on me that most people who currently consider themselves a "photographer" probably wouldn't have anything in common with her and really couldn't have an informed discussion with her about the craft of "photography" because, in effect, they would be talking about two different things. Two completely different disciplines.
Traditionally, "photography" culminated in a tangible print that I'd send to a friend, put in a scrapbook, hang on the wall. That was its purpose, the end result of the process of "photography." The good ones, the ones with some aesthetic sense, got printed, matted, framed, shown in galleries or coffee houses. The not-so-good got pasted in albums, filed in drawers, or tossed.
Today, the photo is no longer a thing, it is about something. Photos have evolved from physical things to vectors of data in a diffused, virtual "information network." The photo has been subsumed into an information web that is the source of its reality. No web, no "photo."
Today's "photograph" is an abstraction – actually a bundle of layered abstractions. What matters is inserting that abstraction into the virtual networks that propagate it outward. Creative decisions? Really not necessary. Leave that to the relevant app. Just as easy to have it randomly choose the "filter" to produce what would previously have been the result of the vision of the individual creator. It's all good, as the kids say while they upload their duck-faced selfies and food snaps to the ether. In any event, what creative decisions there remain are secondary to the systems of dissemination – Instagram, Facebook, whatever. Likewise, the camera you use is significant only to the extent that it allows streamlined access to the dissemination networks. Camera's without wifi linkage? Like a car with a carburetor – obsolete.
Justin E. H. Smith, professor of the history and philosophy of science at the Université Paris Diderot—Paris VII wrote recently about a photojournalist who back in the day tracked down Pol Pot, the psychotic Cambodian mega mass-murderer, spoke with him, took pictures of him with his film camera, then shopped the photos around in the traditional analogue way. This journalist contrasted his experience with that of his teenage niece, apparently a Social Network "Star" of some note, who, with her selfies and lunch photos, racks up more views on Instagram in a day than his own laborously procured pictures of Pol Pot have ever gotten, anywhere. She even receives corporate sponsorship, not because anyone deems her photos good or significant, insightful or formally compelling, but because their "metrics" signal potential for monetization. Him, well, you know.
*************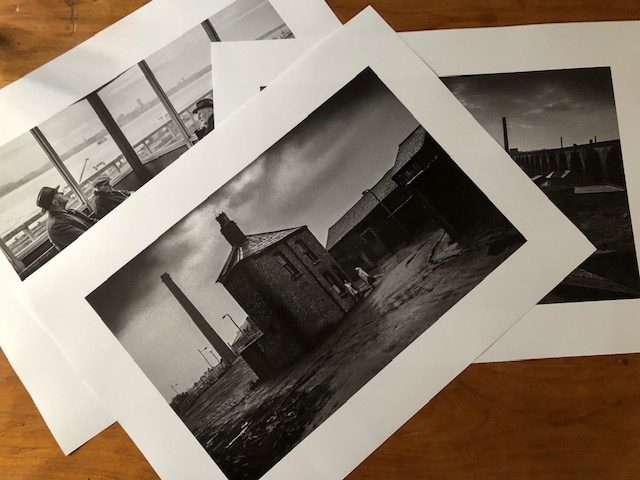 Photos – physical things – the creation of  Dragan Novakovic. These exist as individual, tangible artistic creations. I'm framing them and hanging them on my walls.
A few of us – those still conversant with the traditional analogue paradigm – are attempting to save a space for that paradigm. I'm increasingly convinced that the battle going forward is between the the tangible and the intangible. Advocating film photography as opposed to digital is ultimately about that. Traditional analogue processes, the kind that constituted photography as a craft, aimed at a physical thing – the print – as the final result. There's a beauty to a finely crafted photographic print, a print that's been matted, framed, hung on a wall, one among like others. The best – viewed as physical manifestations of the photographer's vision – can send shivers down your spine.
With the advent of digital processes, the aim of the endeavor is the flow of information in visual form. Creative considerations exist only to the extent they aid in allowing the propagation of the information. Yes, you can print digital capture – but who does? Other than holdovers from the analogue era who still operate under the assumptions of the old paradigm, nobody. The upcoming generation – the "photographers" of the future – not a chance.
My international student – Nicki – watching me unbox my new printer, asked why I needed it. Because I want to print my photos, I replied. I like to have a physical thing, a photo, as the end product of my work, if for no other reason than once it's printed out I'm certain to have at least one permanent copy. Plus, I can matt it, frame it, hang it on the wall. She looked at me quizzically, as if I'd suggested she remove her earbuds and go listen to some Tommy Dorsey on the Victrola. Why, she replied, would you do that when you can keep them in "the cloud" ?