Zagato is an independent automobile design company and total design center located northwest of Milan, Italy. Apparently they've been hired by Leica to create a limited edition M10, price approximately $26,000.
My question is this: what is the Zagato M10's purpose? Who is it being made for? To do what with? I'd feel vaguely foolish carrying one about for regular use and I don't care who designs it, or what its made of –  it's an M10 with non-functional design cues added to appeal to people who know the Zagato name. I'm not sure what car designers, even the best, can add to a photographic device, and the filmed advertisement for it above never articulates an answer to this obvious question. So, the motive behind the camera appears to be pure, vulgar ostentation. Why, when you could easily do so much better?
In any event, regardless of who it's designed by, it's not half as cool as a nice, well-used IIIg with Leicavit, which isn't merely a beautiful design, but was designed as a working camera by designers who were also photographers, functionality always being the best design principle. That's what the current people running Leica seem not to understand: the timeless designs of the iconic Leica Film rangefinders were a result of functional decisions. Now, design decisions seem to be about bling.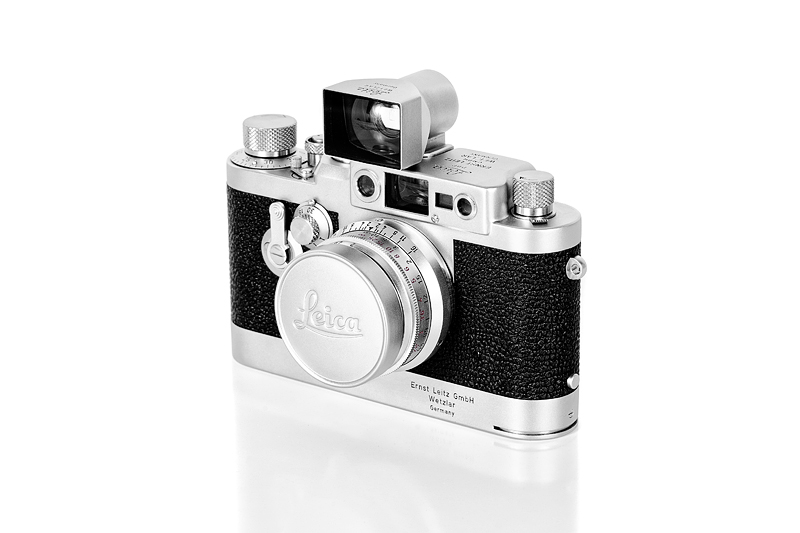 This is a Beautiful Camera. It was designed by camera guys at Wetzlar
As for collector value, I wouldn't put money on any digital device having long-term value as a collector's piece, given it's not a mechanical device but an electronic computer with all the inherent obsolescense problems associated therewith.
Instead of projects like this – designed by luxury car designers or inspired by rock stars – you'd think someone at Leica would think back to Leica's history and proudly work from there. Is that too much to ask, Leica?  Instead of these pointless vanity pieces, why not play to your strengths and your history and design a new all mechanical film camera, you know, the kind that made you famous. Yes, there's still a market for serious film photography, certainly a larger market than that of the Zagato M10, and it seems to me you're the obvious company to exploit it. How about this: stress minimalism – a 35mm rangefinder w/o meter, simple mechanical shutter, manual focus M-mount with capability to use the full range of Leitz optics. Give it an updated body design, not something radical but an evolution of the LTM and/or M models and their timeless designs. Make sure it has an engraved top plate. Please do not put a red dot on it, or a dot of any color. Hand assemble it, just like the IIIg and M3. Price it fairly for both leicaphiles and Leica AG. Don't do something stupid like giving every buyer a roll of Tri-X to sweeten the deal. Do not put someone's name on it. In other words, act like the proud company you once were. I'm pretty sure a sufficient number of people would line up to buy it. Or, if that's too ambitious, why not make a new run of M3's, much like Nikon did with the S3 and SP in the early naughts…not a replica, but an actual M3 indistinguisable from the ones you made through 1966? I assume you've got the tooling to do it. Make some in black paint. Offer it with a Leicavit. Call it the M3R. Leicaphiles will go nuts.
Whichever of the two options you choose, you'll be trading on the Leica name in a way that honors your history in a serious way and shows some basic understanding of why the Leica name means so much to so many in spite of your heretofore short-sighted vulgarization of the brand. You'd make a lot of us really proud, you'd make a huge splash in the camera world, you'd bolster your flagging reputation with serious photographers, and you'd probably sell a few cameras. And you wouldn't have to pay some famous designer to do it.