Mixed Signals
As of April of this year, SlimStats, a WordPress plug-in that tracks site visits, claims that I've topped 1 million visits by unique IP addresses, with a little less than 5 million hits, to the site. Half of that has been in the last year.
I know, in the larger scheme of things, those numbers are small potatoes, a fraction of what established sites like Steve Huff or the other guy's, whatshisname, but then again, how many people are interested enough in Leica cameras to follow a blog like this? Frankly, I'm amazed and baffled…but also really grateful for my readers and all they've contributed. I've met wonderful people through the site, and learned a lot from readers far more knowledgeable than me. I've been invited places and done things I'd never have gotten to do were it not for good folks who occasionally read me.
A few thank-you's are probably in order. First, thanks to everyone who has written a blog comment with a compliment or dropped me an encouraging email when I've periodically disappeared. These mean a lot to me, simple acts of kindness from one human to another, the sort of thing that seems increasingly scarce in the wired environment. Had it not been for the encouragement, I've probably have inactivated the site by now, which would have been a loss, at least for me, because I find the fact that the site remains open and needful of new content occasionally keeps me involved in my photography and intellectually active.
Second, thanks for bearing with the increased abstraction of the subjects; my orientation to photography has always had a philosophical turn and I suppose it's easy enough for me to go down intellectual rabbit-holes that aren't of interest to most readers. I've tried to leaven the heavier stuff with the more mundane, and will continue to do so given the Leica cult makes ridicule not merely easy but required – Leica-land being a place where great photographers/artists like Frank, HCB, Koudelka et al and those of us who love and use the iconic film rangefinders must share space with the social climbers, stuffed shirts and gas bags currently associated with the iconic brand. Frankly, I tape over my Leica logos not to keep people from stealing my cameras but rather to prevent them associating me with the typical clowns who've seemed to have colonized and conquered a once great brand.
*************
It's Leica's radical turn to banality that both miffs and fascinates me, and its manifestations have been an unspoken but obvious focus of the site since its inception. Given my readership stats, it looks as if other people feel the same way. Listen: I get Leica Cameras AG is a capitalist business concern owned by the Blackstone Group, whose primary purpose is to make money. I get that one makes money by giving people what they want to buy, and if that means producing tacky trinkets and overpriced crap, or cynically trading on the inherited goodwill and name recognition of a brand, well, so be it, that's their right. That doesn't mean that that's the honorable way forward, or that I, someone whose allegiance to the brand was created by farsighted business decisions of previous owners using the same brand – decisions that stressed simplicity and excellence of design and timelessness of product – should remain loyal to that ownership group and what they've done simply because they've bought the name. I suspect that Ernst Leitz is rolling over in his grave seeing the shameful spectacle currently associated with the brand. Is it Leica AG's fault that it attracts the hucksters and hangers-on that it does? Not necessarily, but it seems to me they're at least silently complicit with it, what with their glow-in-the-dark designer Leicas and celebrity editions cynically cranked out to maximize their market –  or their at least tacit approval of self-promoting charlatans fleecing naive and unsuspecting consumers – that they at the very least encourage it by corporate bad taste.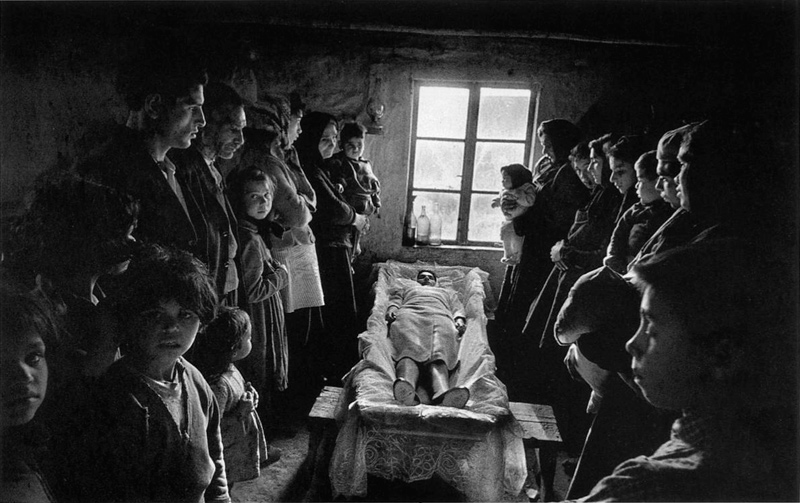 Joseph Koudelka – an iconic image with an iconic Leica M….errr Exacta**
How does one square all this nonsense – what I refer to as the 'Overgaardization' of the brand, with its remarkable history? What does any of this have to do with Ernst Leitz, the functionally brilliant 35mm Leicas, HCB, Robert Frank, the M3, the incredible history of Leica within photo-journalism, the precise mechanical jewels which built Leica's reputation – the Leica I,I, III, the M2, M3, M4? It seems to me that we have an obligation to the excellence that's come before, that's been created and sustained by the brilliance of the past, to honor and protect it and see that it's transferred to new generations of photographers. We as traditional photographers – film users – learned in traditional forms of the practice, forms that have been in use for the past 120 years, are tasked with passing that information on to the next generation of image makers, a digital generation largely unfamiliar with photographic history who wouldn't know of the exceptional tradition embodied by Leica without our input. We are the stewards, the trustees, of that tradition, and it's our obligation to see that it gets properly transmitted to posterity.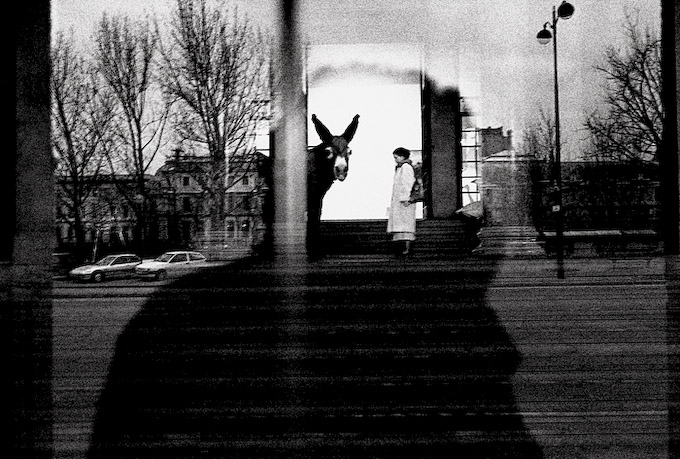 Robert Frank, Self-Portrait, Paris 1999
Likewise, Leica AG are the stewards of Leica's history. Their decisions, either cynical or far-sited, will have immense significance for the Leica brand going forward. The question is: What do they owe us, traditional Leica lovers and users, the base that got them where they are, today? I'm not sure I can answer that question, except to say that they can do a hell of a lot better than some of the tacky things they're currently doing or encouraging by default. Certainly, they can do better than this. Frankly, I think that some of them should be ashamed of themselves.
---
**As noted to me by astute readers, Koudelka's Gypsy series was not shot with a Leica but rather with an Exacta. He used 2 Exakta cameras with 25 mm Flektogon lenses and ORWO 400 film. Koudelka switched to a Leica after he left Czechoslovakia and became member of Magnum. I assume Leicas were expensive and rare in communist Czechoslovakia. I prefer to leave my mistake up, however, because it's humbling and should remind you that you shouldn't believe everything I say without confirming it for yourself, which is good as a general rule of life.