Why do people go to Art School? (I wish I'd have asked myself when I was young; it might have saved me a lot of time, money and diverted energy). More specifically, why do people enroll in undergraduate programs in "Photography" or pursue an MFA in the same? Or, more commonly, why do we take 'Seminars,' either from recognized 'experts' or worse yet, from more rebarbative ilk, the boorish, flim-flammers peddling their nonsense to photographers who happen to use certain equipment? Why do a certain subset of us – 'street photographers' –  feel the need to pay good money to follow a self-appointed expert around for a day? What could we possibly learn? What could an 'expert' possibly 'teach?'
I once asked this question to a semi-famous photographer who occasionally gives "street photography" classes through The Center For Documentary Studies at Duke University. Nice enough guy, but he evaded the question by mumbling some platitude while his eyes shifted nervously. Gotcha, I thought at the time, my bet being, deep down, he knew he had nothing to teach other than slavish imitation. My wife took the course. She enjoyed it. Did she become a better photographer? Probably not in any significant way she couldn't have learned on her own with some minimal attention.
I've asked myself this for years, given I went to 'Art School' back in the day.  Was I someone who sincerely desired to express himself creatively…or was I just another sheep looking for the simple answer and thus easily led to believe in the expertise of others? If the whole endeavor was legit, what was I expecting to learn? Technique? Visual skills? Camera skills? Interpersonal skills? Street smarts? I'm stumped.  I'm willing to entertain that such pedagogical opportunities might have been of some value to me as a wannabe creator; I just don't remember my motivations or expectations. Maybe readers who've attended these things – or "Art School" no less – might chime in.
So, as I usually do when I'm confused about something – good classicist I am – I go back to the Greeks for edification, ( which is a good general rule for life). Can we be taught "creativity?"
*************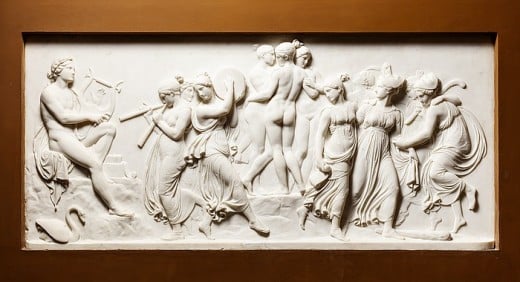 The Ancients certainly didn't think so. The Greeks generally understood creativity to be the product of what Plato called mania, inspiration, or Aristotle called ecstaticos, genius. You either had it or you didn't, and it came and went on its own schedule, irrespective of how hard you tried to conjure it. Paradoxically, the greater the effort to conjure, the less likely it would appear. This is because the Greeks considered such mania to be of divine origin, the gift of your "muse."  You can't force the hand of a god, and to attempt to do so is hubris.
 Specifically, the Greeks understood the Muses as the source of orally related knowledge of poetic lyrics and myths and were considered to be the personification of knowledge and of the arts, especially dance, literature, and music. The Muses were mythological beings who breathed inspiration and creative knowledge into mortals. The Muses lived on Mount Olympus, where they entertained the Olympian gods when they weren't inspiring mortals. That's the Olympians above, getting down and dirty to the ancient Greek equivalent of a Muse garage band.
The Muses did not teach at university nor did they offer weekend creative retreats or paid seminars. That's because inspiration, the pre-condition of all creativity, couldn't be taught.  The best mere mortals could do was to encourage the muse-inspired student and teach him to properly channel his mania when it appeared. This Greek idea of inspiration held the day in western culture through the 19th-Century, when Romantics (think of Goethe, Wordsworth, Emerson, etc) updated the idea of creativity and its sources…and ended up in the same place as the Ancients. They stressed the fundamental non-reductive individuality at the heart of all creativity and believed no group instruction could teach it.
*************
Helpful Hint #1: People Lying in the Street Make Great Art. Especially if They're in Paris
My experience in 50 years of attempting creative endeavors is that the Greeks were right (they're pretty much right about everything, actually). You can't teach creativity; at best you can teach slavish impersonation of another's style, which, obviously, is something distinct from creativity. What you can do is encourage inspiration. A teacher can pass along the enthusiasm necessary to be creative. The muses need to do the rest.
The Bauhaus, a 20th-Century German Modernist art and design movement, also believed that creativity couldn't be taught. The Bauhaus promoted the radical simplification of forms, rationality and functionality. What's interesting about Bauhaus theory is that they did believe craft was a fundamental pre-condition to any creative attempt. You couldn't be creative if you weren't competent to employ your tools in the cause of your creativity. As such, art instruction is legitimate for teaching the basic rules, techniques, and procedures of your chosen craft. Art teachers are really technicians. But that's as far as they can go.
In this, the Greeks were in agreement. Classic Greek thought made a distinction between subjects that could be taught and those that could not. As noted, creativity, for the Greeks, fell into the later category.  Creativity was emperia, something which you didn't gain via being taught by someone else, but rather something you "absorbed" via the grace of the gods. It was a gift that came and went on its own terms. In intellectual terms,  mania was not susceptible of theory, which was a prerequisite of all knowledge that could be taught. According to the Greeks, whatever could be taught had 1) a body of information, 2) a set of methods to apply to that information, and 3) a theory of how to apply the method to the info. Such subjects were called techne – crafts or sciences subject to rules – what we moderns call 'techniques.'
You can teach technique.  And, in fact, the Greeks believed that you must learn technique to avail yourself of what the Muse offered. No technique, no creative receptivity. Can't have one without the other. So….
To be Continued. Part Two – the Relationship of 'Technique' to 'Creativity' Or…. Will Using a Leica Make You a Better Photographer?
Hits: 1155